Things I love...
I love products that are ethical and ecological and good for the body, mind and soul. Here are some of my favourites. Enjoy!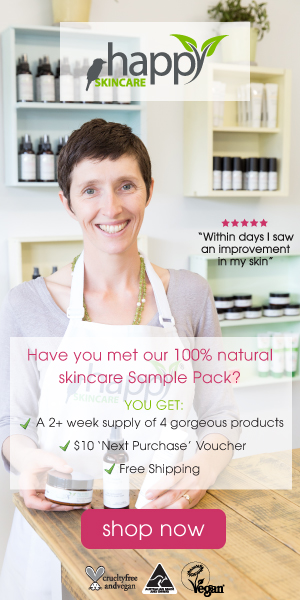 I am always on the lookout for products and services that align with my values. And…when it comes to spending…I must admit I am pretty hard to please…as my criteria for spending is quite specific.
I like whatever I buy to meet these standards:
– It must fill a need, not just a want
– It must be as natural as possible
– It must be as organic as possible
– It must do what it says…efficacy is important
– It must be ethically produced – no animal testing, child labour etc
– It must be Australian if possible
– It must be sustainably produced – no palm oil that kills orangutans, for example
– It must be simple, easy to use
– It must be excellent quality
– It must be reasonably priced
– It has got to make me happy 
So…HAPPY SKINCARE…ticks all these boxes…PLUS…for my Vegan friends…it is Vegan!
NOW…you too can get your HAPPY FACE  Click on the picture link to CHECK OUT their great range of skincare and purchase your HAPPY SKINCARE
Be sure to have a look at their WOOHOO! Deodorant…I like the 'Wild' one.
I think the Over The Moon Cream is going to be my new favourite!
Clare Quinlan
There is an adventure to be had in every day –
Whether you're at the beach, visiting your local café, in an executive boardroom or jetsetting around the world.
This is the philosophy behind Clare Quinlan Jewellery, established in the NSW hinterland in 2014 by passionate jewellery creative, business owner and gypsy soul, Clare Quinlan.
Whilst living in Port Macquarie, Clare came to my Yoga classes and I got to know her and her beautiful jewellery. In particular she designed a stunning Om Necklace…which I love.
Clare believes jewellery is a wonderful storyteller and can evoke memories of experiences, places and people. Designed and handcrafted in Australia (with a few pieces handcrafted by artisans in Bali), Clare Quinlan jewellery showcases the natural beauty of semi precious gems, 100% recycled sterling silver and 22K gold.
CQJ designs are inspired by far off places and intriguing journeys and features a timeless and universal aesthetic, enabling it to be worn from day to evening, across generations or with any adventure.
Follow YogiReb On Instagram
For inspiration and to find out more about Yoga and Natural Health…