WHAT MAT DO YOU USE?
I often get asked "What mat do you use?"
For the last two years I have used a Mukha Mat…a green one, of course, as green is my favourite colour.
I like this mat because it is 5mm thick, so it is easy on the knees. It does make it heavy. Weighing in at 3kg…it is not a great mat to travel with if you want to travel light. But worth ditching a couple of kilos out of your luggage to accommodate it, if you can.
It is made of natural fibres. PVC free…yes to that! And, 100% biodegradable to boot…for those of us who are environmentally conscious.
They are made of rubber with 1% latex…so if you have an extreme latex allergy it may not be the mat for you.
They are durable. On my first use I gauged a huge chunk out of it with my toe nail…even with this missing chunk it held up with no increase to said chunk size, until the next faux-pas of poor cleaning technique!  I did not heed the cleaning instructions and did exactly what you are not supposed to do…hose it down (yikes!)…and…leave it in direct sunlight (opps!)….but it still held up well for over 6 months (and is still fine) with more than an hours' worth of rugged daily use.
I have had mine for over two and a half years…well worth the $88 investment. I have just placed an order for a new one, mainly because one of my lovely students thinks I deserve to treat myself to a new one…and I like the new green and orange combination.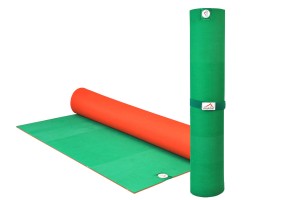 There are other mats out there that I would consider…and I am fussy.
Eco mats are my preference – no PVC, TPE or PER.
Fair trade is a must.
I am Australian so I try to support Aussie endevours.
Not too thin – 5mm gives great cushioning for knees, feet and hands – I want firm and cushioning; but, not too thick – squishy, thick mats are really difficult to balance on when doing standing balancing poses, however, you can always step off your mat for these.
So my top pick is a Mukha Mat http://www.mukha.com.au/shop.html
Lov Earth is a bit more expensive (with postage), 4.5mm thick and therefore is lighter, and if you like some colour then it better be beige! http://www.lovearth.com.au/product/lovearth-eco-yoga-mat/
If you like black then maybe this Mukti mat is your mat http://www.muktimats.com.au/collections/natural-mats More expensive and not as thick (4mm) but is lighter to carry.
Not Australian, but a great and popular mat is the Jade range, the thick one is a goodie http://jadeyoga.com/collections/yoga-mats/products/fusion-mat Be prepared to pay over $100 but you won't regret it!
Natural, some great colours but you'll have to buy from overseas and pay a higer price, is the Manduka Eco mat. Not a bad buy of you are desperate for a splash of particular colours! https://www.manduka.com/yoga-mats/eko-mats/eko-mat-5mm.html
I hope this gives you some guidance and assistance in choosing from the plethora of mats out there.